FOTON Glovry 9 RHD high roof narrow body
| | |
| --- | --- |
| Payment Type: | T/T |
| Terms of Trade: | FOB |
| Min. Order: | 1 Set/Sets |
| Delivery Time: | 40 Days |

| | |
| --- | --- |
| Packaging: | Naked |
| Productivity: | 100 units /month |
| Brand: | Dongfeng |
| Transportation: | Ocean |
| Place of Origin: | China |
| Supply Ability: | 100 units/month |
| Certificate: | GCC |
| Port: | Shanghai,Qingdao,Tianjin |
Basic Info
Model No.: BJ6549B1PDA-RA
Product Description
FOTON Glory 9 Right hand drive high roof narrow body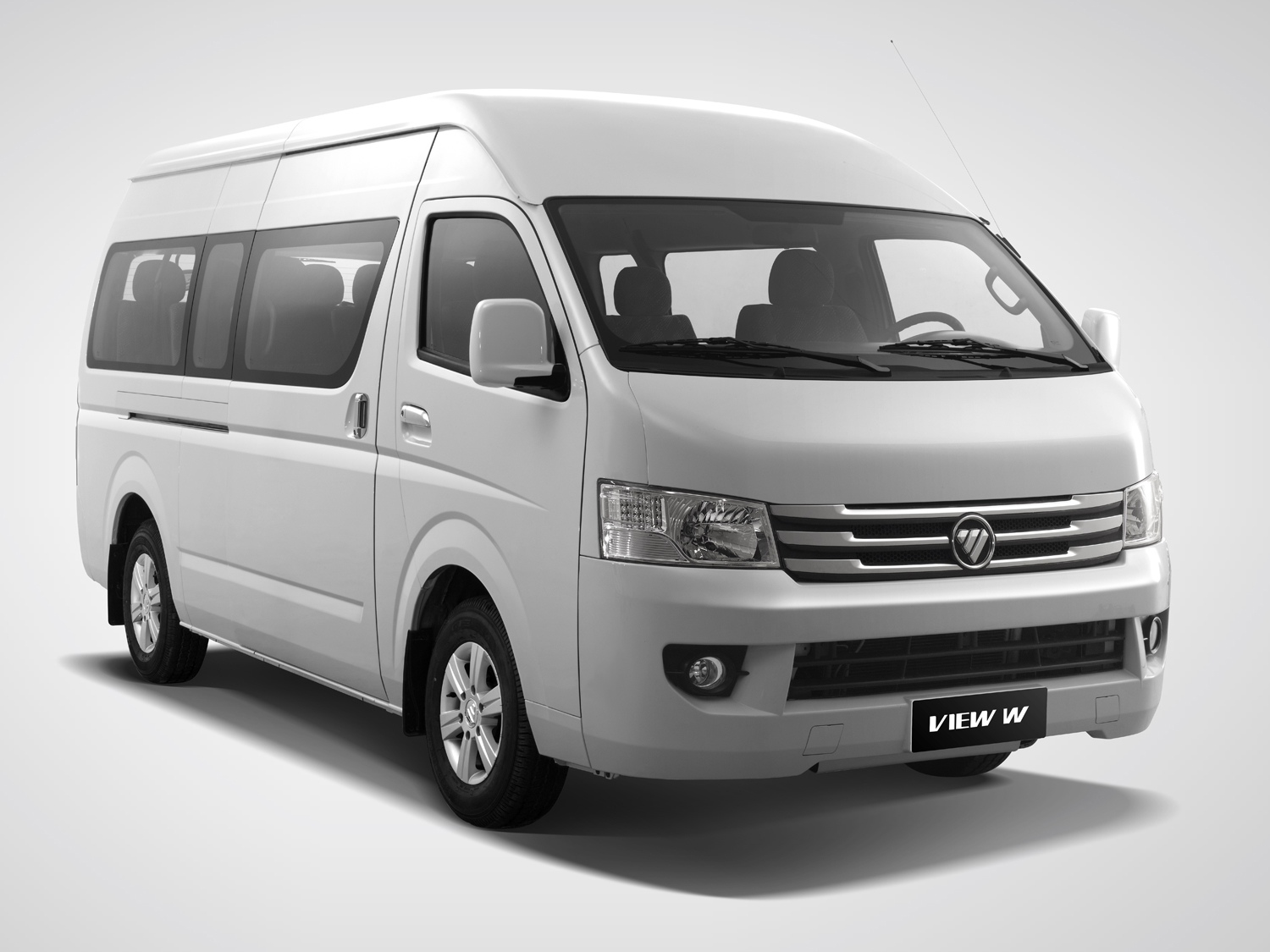 出口国家
特立尼达和多巴哥
特立尼达和多巴哥
品牌【Brand】
风景Landscape G7

风景G9
车型【Type】
BJ6489B1PDA-R3
BJ6549B1PDA-RA
驾驶Driving
右驾Right drive
右驾Right drive
驾驶舱类型【Cab type】
高顶
Narrow body, flat top
高顶
Narrow body, flat top
驱动形式 【 Drive system】
4×2
4×2
整车参数
【Vehicle parameters】
外观尺寸(mm)
【Vehicle dimensions(mm)】
4840×1695×2240
5380×1920×2285
准载人数(人)
【Number of people allowed (person)】
15
15
轴距【Wheelbase】
2570
3110
最小转弯半径(mm)
【Minimum turning radius】
5500
6250
轮距 (前/后)(mm)
【Wheelbase (front / rear) (mm)】
1470/1465
1655/1650
最高车速(km/h)
【Maximum speed (km / h)】
130
100
整备质量【Curb weight】
1985
2255
最大总质量【Maximum total mass】
3020
3400
最小离地间隙(mm)
【Minimum groud clearance】
160
170
前悬/后悬尺寸(mm)
【Front suspension / rear suspension dimensions (mm)】
1190/1080
1190/1080
发动机
【engine】
燃料类型【Fuel type】
柴油【Diesel】
柴油【Diesel】
发动机型号【Engine model】
BJ493ZQ
ISF2.8s4129P
最大扭矩 [N·m(r/min)]【Torque】
225
280
额定功率Power (kW)
70
96
排放标准【Emission standard】
欧Ⅱ【EUROⅡ】
欧Ⅳ【EUROⅣ】
排量(ml)【Displacement】
2771
2780
离合器
【clutch】
离合器【clutch】
单片、干式、膜片弹簧离合器Single-plate, dry-type, diaphragm spring clutch
单片、干式、膜片弹簧离合器Single-plate, dry-type, diaphragm spring clutch
离合操纵【Clutch manipulation】
液压操纵Hydraulic operation
液压操纵Hydraulic operation
变速器
【transmission】
型号【model】
中马ZM001AJD1
齿038J2
型式【Type】
5MT
5MT
悬架
【Suspension】
前悬架【Front suspension】
双横臂式扭杆弹簧独立悬架
Double-wishbone torsion bar spring independent suspension
双横臂式扭杆弹簧独立悬架
Double-wishbone torsion bar spring independent suspension
后悬架【Rear suspension】
钢板弹簧3+1
Leaf spring 3 + 1
钢板弹簧3+1
Leaf spring 3 + 1
转向
【Turn to】
转向传动装置【Steering gear】
机械转向Mechanical steering
动力转向
转向器型式

【Steering gear type】
齿轮齿条式Rack and pinion
齿轮齿条式Rack and pinion
制动【brake】
前制动器

【 Front brake】
盘式Disc
盘式Disc
后制动器

【Rear brake】
鼓式Drum
鼓式Drum
驻车制动

【 Parking brake】
轮边手制动Hand brake
轮边手制动Hand brake
空调【air-conditioning】
空调air conditioning
空调air conditioning
轮胎【Tire specification】
195R15C
195R15C
后桥【Rear axle】
型式【Type】
整体式后桥One-piece rear axle
整体式后桥One-piece rear axle
速比【 Speed ratio】
4.1
4.1
额定载荷(kg)【

Rated load (kg)】
1800
1800
其他基本配置Other basic configuration
ABS+EBD/推拉窗/海外通用彩条/前暖风前后空调/电子可调大灯/针织座椅+无头枕/手动门窗+机械锁/2个扬声器/收音机/倒车影像/PVC地铺/手动调节不带除霜手动折叠不带转向灯后视镜/后雨刮+后喷淋+后除霜+后照地镜/无后踏板//0.5Kg灭火器//PU方向盘/PU换档手柄/电动空调/前门踏步//喷漆前格栅/可调角度方向盘/PU换档防尘套/正驾驶遮阳板(带票据夹)/黑色前后保险杆/黑色后视镜/副驾驶遮阳板(带化妆镜)/防眩目内后视镜/黑色门扣手/有高位制动灯/15座/拉杆天线/单压缩机
发动机型号:BJ493ZQ-20ke、无后除霜、主副司机三点式安全带、有头枕,

中间小座两点式安全带、带头枕,其余座椅两点式安全带、无头枕

。【ABS+EBD/Sliding window/Overseas general color bar/Front heater front and rear air conditioning/Electronic adjustable headlights/Knitted seats+Headless/Manual doors and windows+Mechanical lock/2 speakers/Radio/Reversing image/PVC floor/ Manual adjustment without defrost Manual folding without turn signal rearview mirror/rear wiper+rear spray+rear defrost+rear ground mirror/without rear pedal//0.5Kg fire extinguisher//PU steering wheel/PU shift handle /Electric air conditioner/Front door step//Painted front grille/Adjustable steering wheel/PU shift dust cover/Front driving visor (with bill clip)/Black front and rear bumpers/Black rearview mirror/Co-driver visor ( (With makeup mirror)/anti-glare interior rearview mirror/black door buckle/high brake light/15 seats/rod antenna/single compressor
Engine model: BJ493ZQ-20ke, no rear defrosting, three-point seat belts for main and auxiliary drivers, with headrests, two-point seat belts and headrests in the middle seat, and two-point seat belts for the remaining seats, without headrests.】


ABS+EBD/平推窗/海外通用彩条/前后暖风前后空调/电子可调大灯+前雾灯/针织座椅+头枕/

全车三点式安全带

/电动门窗+遥控锁+声光报警器/4个扬声器/CD/倒车雷达/PVC地铺/电动调节不带转向/双安全气囊/后雨刮+后喷淋+后除霜+后照地镜/0.5Kg灭火器/真皮方向盘/PU换档手柄/电动空调/前门踏步/有踏步灯/喷漆前格栅/可调角度方向盘/PU换档防尘套/正驾驶遮阳板(带化妆镜)/车身同色前后保险杆/车身同色后视镜/副驾驶遮阳板(带票据夹)/防眩目内后视镜/车身同色门扣手/有高位制动灯/15座(最后排侧翻)/拉杆天线
1.加限速装置,限速要求100km/h2.中间小座两点式安全带,带储物盒3.乘员区左后侧窗、右前侧窗体现平推窗,其他为粘接玻璃。4.全球版彩条【ABS+EBD/Flat sliding window/Overseas general color bar/Front and rear heater front and rear air conditioner/Electronic adjustable headlights+Fog fog lights/Knitted seats+Headrest/Full car three-point seat belt/Electric doors and windows+Remote control lock+Sound and light Alarm/4 speakers/CD/Reversing radar/PVC floor covering/Electrical adjustment without steering/Double airbags/ Rear wiper + Rear spray + Rear defrosting + Rear-view mirror / 0.5Kg fire extinguisher / Leather steering wheel / PU Shift handle/Electric air conditioner/Front door stepping/Step lights/Painted front grille/Adjustable steering wheel/PU gear shift dust jacket/Front driving sun visor (with makeup mirror)/Body of the same color front and rear bumpers/Body of the same color Sight mirror/ Co-pilot sun visor (with bill clip)/ Anti-glare interior rear view mirror/ Car body color door buckle/ High brake light/15 seats (Last row rollover)/ Tie rod antenna
1. Add speed limit device, speed limit requirement is 100km/h. 2. Two-point seat belt in the middle small seat, with storage box. 3. The rear left side window and the right front side window of the passenger area reflect flat push windows, and the others are bonded glass. 4. Global version of color bars】

COMPANY INTRODUCTION
Founded in 2017, HENAN TARZAN INDUSTRIAL CO., LTD., specializes of international export business for commercial & passenger vehicles, construction machinery, spare parts and so on. With open mind, global perspective, strengthen with foreign famous enterprises and domestic industry leading enterprises of the joint venture cooperation during the recent years, and now our cooperating manufacturing base covering the concrete mixing station, cranes, wheel loaders, excavators, forklifts, road rollers and spare parts, and other wide range and variety of products series, with high quality, excellent service marketing strategy, we have been in the international business with significant market share.
Here, we enclose our product list as followings for your reference.
Dump Truck Series:
6×4, 8×4 ---Heavy duty tipper Dongfeng T-Lift with loading capacity 20 to 55Ton,
6×4, 4×2--- Medium duty tipper Donfeng Kingrun with loading capacity 15 to 20Ton,
4×2--- Light duty tipper truck Dongfeng Rituo with loading capacity from 3Ton to 14Ton.
Tractor Series: 4×2,6×4 Dongfeng Kinland Tractor Head Special suit for middle and long distance transport.
Cargo Truck Series:
Dolica 4x2 ---light cargo truck with capaity from 2 to 10 ton,
Capation 4x2 ---high end light cargo truck with capacity from 2-10 ton,
Kingrun 4x2 ---Medium duty cargo truck with capacity from 13-20 ton,
Kingland 6x2, 6x4 and 8x4 ---Heavy duty cargo truck with capacity from 20-40 ton.
Special Purpose Vehicle Series: . Concrete Mixer Trucks, Suction Sewage Trucks, Sweeper Trucks, Fuel Tanker, Water Tanker, Refrigerated Trucks, High Platform Truck, Garbage Trucks, Fire Fighting Trucks, Truck Crane and So on.
Auto Spare Parts: Series Auto Parts of Series Vehicle and Machinery, like filter, PTO
FAQ
1. Where are you located ? Do you have your own factory ?
Answer : Definitely, we have our own factory and located in Zhengzhou city , China.
2. Could l come to your company , visit your factory ?
Answer: sure, most welcome you come here , visit our factory any time.
3. Is it okay for you pay by L/C
Answer: Yes, we are rich experienced L/C.
4. Do you have Quality assurance policy for your customer ? and could you provide OEM service?
Answer: we provide quality assurance only for new vehicle. and it is our strength to provide OEM service.
Contact way
Monica
Zhengzhou Dongfeng Mid-South Enterprise Co., Ltd.
Add: No. 28.Dongfeng Road, Jinshui District, Zhengzhou.
Working Schedule: Monday--Friday 9.00-18:30
Zhengzhou Dongfeng Mid-south Enterprise Co., Ltd.
Our company has a number of automated production lines to ensure adequate inventory.Our company offers Commercial Vehicle including dump truck,cargo truck,tractor truck,special purpose truck.etc,Passenger Vehicle,Engineering Machinery,Agricultural Machinery,Spareparts,Construction Machinery,Construction Equipment.We adhere to management principles of " quality first, customer first and credit-based" since the establishment of the company is sincerely willing to cooperate with enterprises from all over the world in order to realize a win-win situation since the trend of economic globalization has developed with irresistible force.Besides, because of large overseas markets, if you have any new ideas or concepts for the products, please contact us. We are glad to work together with you and finally bring you the satisfied products. We warmly welcome customers to cooperate with us.
Company Name: Zhengzhou Dongfeng Mid-south Enterprise Co., Ltd.
Representative: Candice Wang
Product/Service: Dump Truck , Tractor truck , SUV , Coach bus , HOWO truck , Dongfeng truck
Capital (Million US $): 10000000RMB
Year Established: 2003
Total Annual Sales Volume (Million US $): US$5 Million - US$10 Million
Export Percentage: 91% - 100%
Total Annual Purchase Volume (Million US $): Below US$1 Million
No. of Production Lines: above 20
No. of R&D Staff: Above 100 People
No. of QC Staff: Above 100 People
OEM Services Provided: yes
Factory Size (Sq.meters): 50,000-100,000 square meters
Factory Location: Shiyan City, Hubei Province, China
Contact Person: Ms. Candice Wong
Tel: 86-371-88883954